- Unité de Sauvegarde Interne / Externe -
- Interne and External Stokage Unit -

- UNITÉ DE LECTURE ET/OU ÉCRITURE -
- UNIT OF READING AND/OR WRITING -
Zip, CD-Rom, CD-R, CD-RW, Floptical etc.

.



ASUSTeK COMPUTER INC. (Asus ) a été fondé le 1er avril 1989. Actuellement, ASUS produit plus de 700,000 cartes mères, ordinateur portatif, cartes périphériques, lecteurs CD-ROMt et serveurs chaque mois. (Un des meilleurs constructeur de carte maitresse )
ASUSTeK COMPUTER INC. ( Asus) was founded on April 1st, 1989. Currently, ASUS is producing over 700,000 mainboards, notebook computers, add-on cards, CD-ROM drives and servers each month. One of the best constructor of motherboard.

Colorado - HP





Eiger Labs, fondés en 1994, fournit une large variété de Carte PC et périphériques de bureau tel que: unite de sauvegarde, multimédia, connectivité et
les produits de communications.
Eiger Labs, founded in 1994, provides a wide variety of PC Card and desktop peripherals. With a full spectrum of storage, multimedia, connectivity and communications products.




La Compagnie Iomega Compagny.




Plextor Corp. est un chef de file dans le développement et la fabrication d'équipement CD haute performance pour les utilisateurs professionnels et les amateurs d'ordinateur sérieux.
Plextor Corp. is a leading developer and manufacturer of high performance CD equipment for professional users and computer enthusiasts.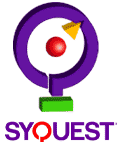 La Compagnie Syquest Compagny.
- SUPPORT: Bande, Disquette, Zip, CD-Rom etc.-
- SUPPORT: Tape, Floppy disk, Zip disk, CD-Rom etc.-
La Compagnie 3M Compagny.
(3M Inovation inventeur du LS120)


Basé à Boulder, Colorado, Exabyte est un chef de file de l'industrie des bande de sauvegarde et solutions d'entreposage de données auxiliaires et intelligentes, automatisées.
Headquartered in Boulder, Colorado, Exabyte is an industry leader in tape backup and intelligent, automated data storage solutions.




Lancé comme une compagnie indépendante le 1er juillet 1996, Imation est une compagnie dérivé de 3M entreposage de données et imagerie d'entreprises. Imation est un chef de file dans l'industries dans lequel il opère, en fournissant des technologies innovatrices, des produits, des solutions et des services à ses clients dans les catégories suivantes: Entreposage de Données et Gestion des Renseignements, Solutions Numériques et Services Numériques, Correction des Couleurs, Papiers Spéciaux. Imation est un fournisseur principal mondial de média, amovible, de grande marque, en incluant ses SuperDiskTM et technologies TravanTM. La compagnie fabrique aussi et vend des systèmes de correction numériques et conventionnels, y compris le Standard de l'industrie dans la Correction des Couleurs le "MatchprintTM".
Launched as an independent company on July 1, 1996, Imation is a spin-off of 3M's data storage and imaging businesses. Imation is a leader within the industries in which it operates, providing innovative technologies, product and service solutions to its customers in the following areas: Data Storage and Information Management, Digital Solutions and Services, Color Proofing Products and Services, Document Imaging, Specialty Papers, Imation is a world leading supplier of branded, removable media for data storage applications, including its SuperDiskTM and TravanTM technologies. The company also manufactures and markets digital and conventional proofing systems, including the industry standard MatchprintTM color proofing system.